Hello, ice cream lovers, we're diving into a delightful collection of ice cream that starts with "R."
Get ready to tantalize your taste buds with these unique and scrumptious options.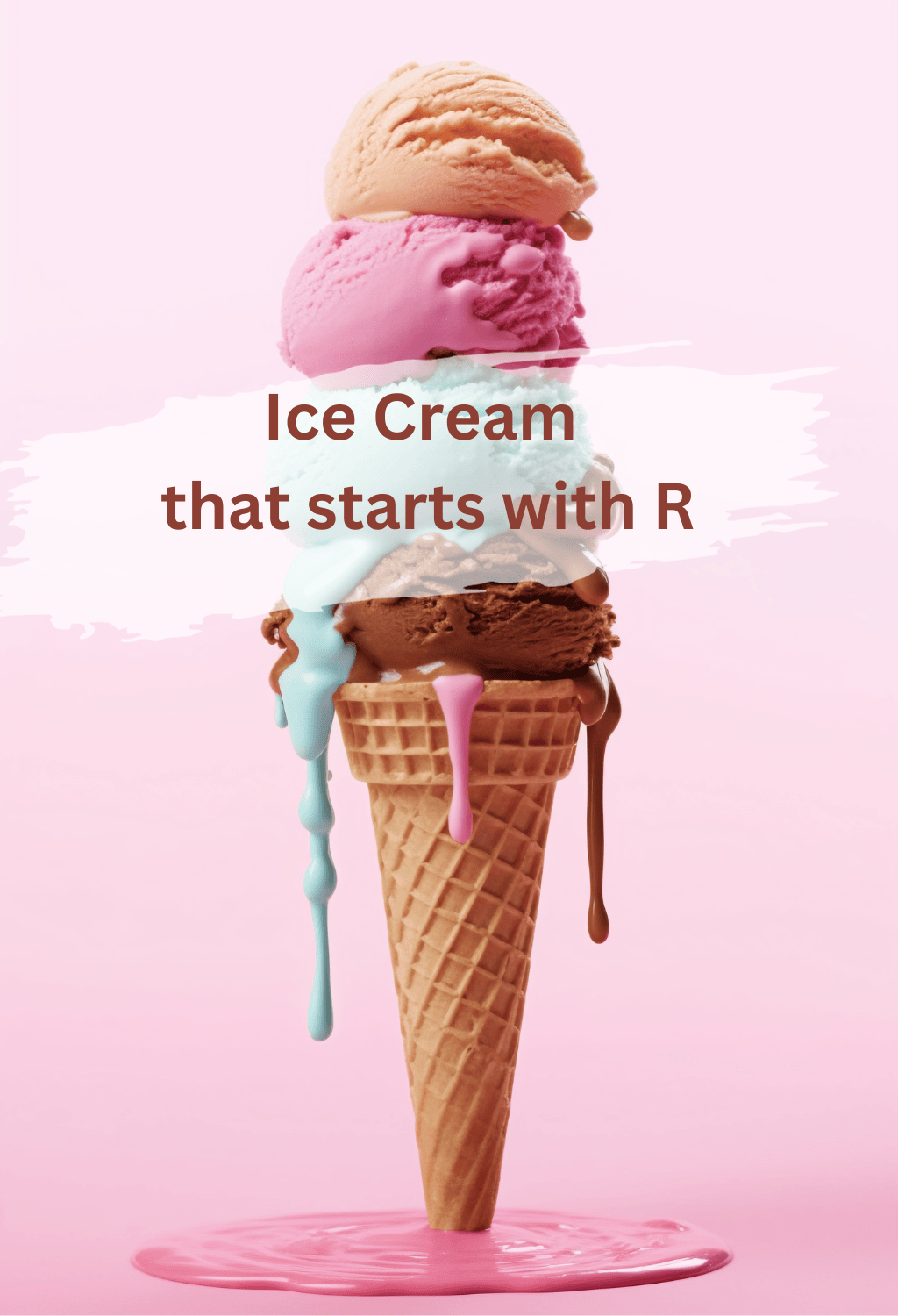 We've got 20 luscious ice creams to introduce you.
So, let's embark on this delicious journey and get ready to drool over Rocky Road, Raspberry Ripple, Red Velvet, and more.
Rocky Road
Raspberry Ripple
Red Velvet
Rum Raisin
Roasted Almond
Rainbow Sherbet
Rosewater
Rhubarb Crumble
Root Beer Float
Raspberry Cheesecake
Red Bean
Roasted Fig
Roquefort
Ricotta
Roasted Chestnut
Rose Petal
Rainbow Unicorn
Red Currant
Red Plum Sorbet
Rosemary Honey
Rocky Road
First up, we have the ever-so-popular Rocky Road ice cream. Imagine a creamy base loaded with marshmallows, nuts, and chocolate chunks.
It's like a rocky adventure for your taste buds. The velvety ice cream provides a smooth backdrop for the sweet, chewy marshmallows and the satisfying crunch of almonds or walnuts.
And let's not forget about the rich chocolate bits that are generously scattered throughout. Rocky Road is a flavor rollercoaster you won't want to get off!
Raspberry Ripple
Moving on to a more fruity delight, we have Raspberry Ripple. If you're a fan of fruity, tart goodness, this one's for you.
Imagine a creamy vanilla ice cream swirled with a vibrant raspberry sauce. The result? A dance of sweet and tangy in every spoonful.
The red swirls not only look appealing but also add a refreshing twist to the classic vanilla flavor. It's like capturing the essence of a sunny summer day in a cone.
Red Velvet
Who doesn't love the lusciousness of red velvet cake? Well, now you can savor that same flavor in ice cream form!
Red Velvet ice cream combines the iconic taste of red velvet cake with the creaminess of ice cream. It's a match made in dessert heaven.
Think of rich cocoa notes and a slight hint of buttermilk, all swirled into a smooth ice cream base. This one's like a cozy slice of cake in every bite.
Rum Raisin
For those with a taste for more mature flavors, Rum Raisin ice cream is an intriguing choice.
It features plump raisins soaked in a touch of rum, creating a complex and slightly boozy taste.
The raisins add a chewy texture while the rum infuses the ice cream with warmth and depth.
It's like enjoying a fine dessert that you don't need to be of legal drinking age to appreciate.
Roasted Almond
We have Roasted Almond ice cream. If you're a fan of nuts, you're in for a treat.
This creamy creation is packed with the toasty, nutty flavor of roasted almonds.
With every scoop, you get a satisfying crunch and a burst of almond goodness.
It's like taking a stroll through an almond orchard, but way more delicious!
Rainbow Sherbet
Rainbow Sherbet is a vibrant, citrusy sensation.
Imagine scoops of zesty orange, lemon, and lime swirled together in a frozen harmony. It's like a rainbow in a cone!
This fruity blend is perfect for those who crave a refreshing and tangy flavor explosion.
With Rainbow Sherbet, every bite is a burst of sunshine on a hot summer day.
Rosewater
When it comes to unique and sophisticated flavors, Rosewater ice cream takes the cake.
Made with the essence of fragrant rose petals, this ice cream offers a subtle floral note that's both elegant and refreshing.
It's like strolling through a blooming rose garden on a warm afternoon.
The gentle sweetness and floral aroma make this ice cream a truly one-of-a-kind treat.
Rhubarb Crumble
Rhubarb Crumble ice cream is a fantastic combination of sweet and tart flavors.
It starts with a creamy base, and then it's infused with the tangy taste of rhubarb, which is like a burst of sunshine on a cloudy day.
To make it even more irresistible, bits of crumbled crumble topping are swirled in, adding a delightful crunch.
It's like enjoying a warm rhubarb pie à la mode, but in a convenient scoop!
Root Beer Float
Who doesn't love a good old-fashioned Root Beer Float? This ice cream takes you back to the soda shop days.
It combines the nostalgic flavors of root beer and vanilla ice cream. It's like sipping on a bubbly, frothy root beer float, but in a frozen form.
The creamy and fizzy combination is sure to bring back cherished memories and put a smile on your face.
Raspberry Cheesecake
This delectable creation blends the creamy richness of cheesecake with the bright and tangy allure of raspberries.
The result is a dessert that's like indulging in a slice of cheesecake topped with a fresh raspberry sauce.
It's a match made in dessert heaven, offering the perfect balance of sweet and tart.
Red Bean
Red Bean ice cream is a delightful blend of sweet and savory.
It features a creamy base with a swirl of red bean paste that adds a unique and slightly nutty flavor. It's like enjoying a sweet treat with a hint of earthy goodness.
If you're in the mood for something out of the ordinary, this one's a must-try.
Roasted Fig
For a flavor that's both toasty and fruity, Roasted Fig ice cream is a winner.
This frozen concoction combines the warmth of roasted figs with a creamy base.
The roasting process intensifies the figs' natural sweetness, creating a rich and caramel-like note.
It's like savoring the essence of a fig-filled pastry in each bite.
Roquefort
This one might surprise you – Roquefort ice cream.
It takes the bold and tangy flavors of Roquefort cheese and transforms them into a creamy ice cream.
The result is a unique and savory treat that's perfect for those who enjoy adventurous flavor profiles. It's like a culinary journey through the world of cheese, all in a scoop of ice cream.
Ricotta
Ricotta ice cream is a testament to simplicity and pure creaminess.
It takes the mild and delicate nature of ricotta cheese and turns it into a smooth and dreamy ice cream.
It's like having a scoop of velvety clouds in a cone. The subtle richness of the cheese makes it a perfect canvas for toppings or mix-ins.
Roasted Chestnut
Roasted Chestnut ice cream is a warm and nutty treat that captures the essence of a cozy winter evening by the fireplace.
The creamy base is infused with the rich, toasty flavor of roasted chestnuts, creating a flavor profile that's both comforting and nostalgic.
It's like having a chestnut roasting party in your cone!
Rose Petal
For a touch of sophistication in your dessert, Rose Petal ice cream is the way to go.
This elegant flavor is made by infusing delicate rose petals into a creamy base.
The result is a subtly floral and aromatic delight that's perfect for those who appreciate a more refined taste.
It's like savoring the fragrance of a blooming rose garden in a scoop.
Rainbow Unicorn
Rainbow Unicorn ice cream is pure whimsy and fun. This colorful creation is a mix of vibrant colors and flavors that spark joy.
You'll find swirls of fruity, rainbow-colored goodness that bring a smile to your face with every bite.
It's like stepping into a magical world filled with unicorns and rainbows, all in the form of a creamy scoop.
Red Currant
If you're in the mood for a zesty and tangy flavor, Red Currant ice cream is the answer.
It combines the brightness of red currants with a creamy base, creating a delightful balance of sweet and tart.
It's like a burst of sunshine on your taste buds. Perfect for those who enjoy a fruit-forward ice cream experience.
Red Plum Sorbet
Red Plum Sorbet is a fantastic option for those seeking a refreshing and fruit-filled treat.
It's not your typical creamy ice cream; instead, it's a sorbet bursting with the juicy flavor of red plums.
Each spoonful is like indulging in a plum orchard on a hot summer day. It's naturally sweet and tangy, making it a perfect choice for a lighter dessert.
Rosemary Honey
Rosemary Honey ice cream is a unique combination of sweet and savory flavors.
It marries the aromatic herbaceousness of rosemary with the natural sweetness of honey.
The result is a flavor profile that's like a harmonious duet between the garden and the beehive.
It's perfect for those who appreciate a more complex and adventurous ice cream experience.
Ice Cream That Starts With R
Ingredients
Rocky Road

Raspberry Ripple

Red Velvet

Rum Raisin

Roasted Almond

Rainbow Sherbet

Rosewater

Rhubarb Crumble

Root Beer Float

Raspberry Cheesecake

Red Bean

Roasted Fig

Roquefort

Ricotta

Rice Pudding

Roasted Chestnut

Rose Petal

Rainbow Unicorn

Red Currant

Red Plum Sorbet

Rosemary Honey
Directions
Select your favorite ice cream flavor
Gather all required ingredients
Enjoy your favorite ice cream flavor